Be warned that this wiki is filled with SPOILERS about the Myself; Yourself series. Read at your own risk!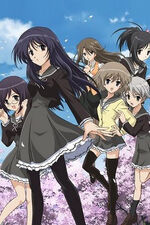 For the sake of parents' business plans, Sana Hidaka moved to Tokyo. Five years later, he has become a high school student, and returned to his hometown, Sakuranomori. He feels uneasy because the streets of his hometown and his old friend he meets again have changed a lot since five years ago. The most changed thing is his old friend, Nanaka Yatsushiro. She used to smile sweetly with innocent eyes, but now she has withdrawn herself and is gloomy. 
Not sure where to start?
If you are new to wikis, check out the Policies.
Adding content
Loading RSS data...
Who's your favorite character in the series?
</center>